iPhones and iPads that support two cellular calling plans at once add an option that lets your device draw from both connections when it's useful. iPhones and iPads released in the last few years with a physical SIM slot let you add a second as an eSIM. The iPhone 13 and later can also use two eSIMs instead of a physical SIM, while iPhone 14 models sold in the United States only have eSIM support (for one or two in use at a time).
You might use a second SIM in your home region if each network subscription has different capabilities, such as non-local free voice calling or data limits based on network coverage. However, it's most likely you'd install another SIM for travel away from your home region or country, as I did recently to Central Europe.
If you have some coverage from your main carrier and use a roaming SIM to complement that, you can take advantage of a feature Apple offers to manage cellular data use. In Settings > Cellular/Cellular Data, you can Allow Cellular Data Switching. Apple describes this feature succinctly as, "Turning this feature on will allow your phone to use cellular data from both lines depending on coverage and availability." In practice, it works with a fair amount of sophistication, and it's worth turning on to have what appears to be an optimum experience.
I subscribe to T-Mobile in the U.S. and the company's Magenta and higher-tier Magenta Max plans include unlimited data at 256Kbps in what T-Mobile describes as 215-plus countries without roaming fees. (Unlimited texting and voice calls at $0.25 per minute are also included.) In 11 countries covered by the Magenta plan and all countries with Magenta Max plans, T-Mobile also includes a total of 5GB per monthly billing cycle at 5G rates. In my travels, that covered three countries out of the five I visited. (Sadly, my billing cycle put all usage in the same month instead of 5GB from T-Mobile in one month and 5GB in the next.)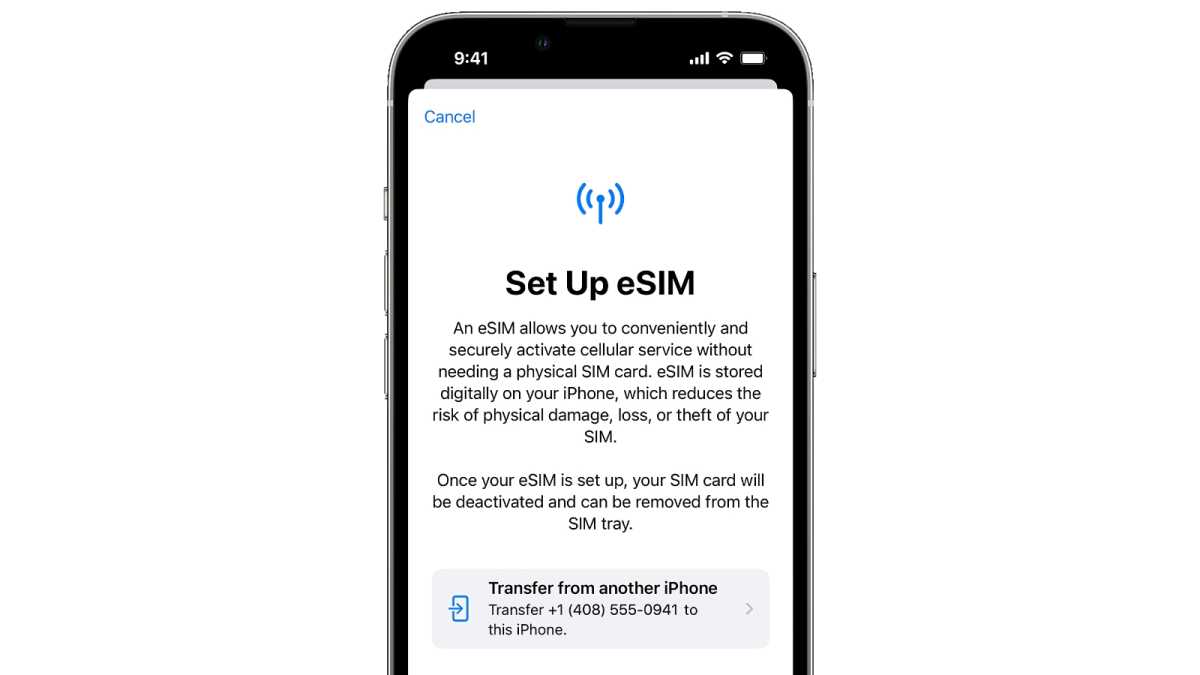 Apple
In addition, I purchased a 5GB eSIM that worked across Europe. I found Wi-Fi everywhere, too, and hotels, restaurants, museums, and other locations prominently displayed access codes or offered them freely. Relying on Wi-Fi where possible reduced my cellular data load.
At times, I found cell data service lagged even when I should have been getting 5G rates from T-Mobile, likely due to coverage gaps. The same occurred at times while switched over to the purchased eSIM plan.
Enabling Allow Cellular Data Switching offered what seemed like a distinct improvement, providing more consistent coverage at the highest possible data rate without draining either 5GB pot fully.
Apple doesn't disclose what it means by "coverage and availability" but it was clear that while in areas that T-Mobile offered just 256Kbps, that still supplemented the purchase eSIM–otherwise, I would have drained the 5GB faster.
On the last day of my trip, I passed through the airport in Montréal. Canada is another country covered in T-Mobile's Magenta 5GB deal. Checking usage after, I found I still hadn't run through my T-Mobile data and was at about 4.7GB on the purchased SIM just before taking off on the final leg home. A perfect landing.
Ask Mac 911
We've compiled a list of the questions we get asked most frequently, along with answers and links to columns: read our super FAQ to see if your question is covered. If not, we're always looking for new problems to solve! Email yours to [email protected], including screen captures as appropriate and whether you want your full name used. Not every question will be answered, we don't reply to email, and we cannot provide direct troubleshooting advice.